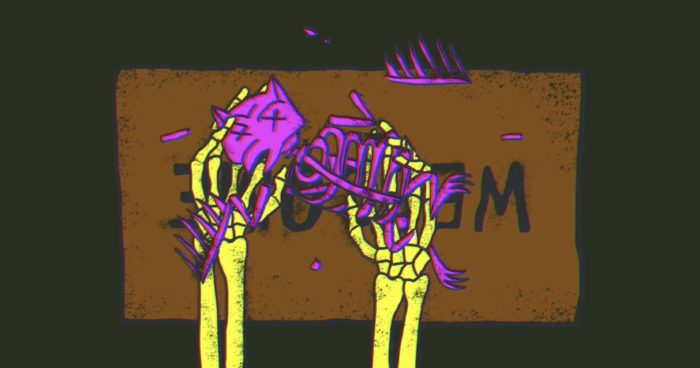 February 12, 2019 12:09 pm
Cloud Nothings teamed up with animator Brandt Imhoff to create a post-apocalyptic music video for their bleak and jarring track, "So Right So Clean." You can also read about how it all came together via The Wild Honey Pie, who produced the video.
"So Right So Clean" is taken from their album released at the end of last year, Last Building Burning. If you haven't already, be sure to give it a listen on your favorite streaming service.
The band continues on in their tour around the world.
February 12th – Vienna, AT – Chelsea
February 13th – Zagreb, CR – Tvornica Kulture
February 14th – Milan, IT – Ohibò
February 15th – Rome, IT – Monk
February 16th – Bologna, IT – Covo Club
February 18th – Zurich, CH – Bogen F
February 19th – Lausanne, CH – Le Romandie Rock Club
February 21st – San Sebastian, ES – Dabadaba Club
February 22nd – Madrid, ES – Sala 0
February 23rd – Valencia, ES – La Marina
February 24th – Barcelona, ES – La 2
March 11th – Tokyo, JP – Shibuya Tsutaya O-East
March 12th – Nagoya, JP – Nagoya Club Quattro
March 13th – Osaka, JP – Umeda Trad
March 15th – Hong Kong, HK – Mom Livehouse
March 16th – Shenzhen, CN – HOU Live
March 17th – Guangzhou, CN – T:Union
March 19th – Wuhan, CN – Vox Livehouse
March 20th – Nanjing, CN – Ola Space
March 21st – Hangzhou, CN – Mao Livehouse
March 22nd – Shanghai, CN – Bandai Namco Future House
March 23rd – Beijing, CN – Omni Space
April 4th – Lima, PE – Fuga
April 6th – Santiago, CL – Bar Loreto
April 10th – Buenos Aires, AR – Niceto Club
April 12th – Chapecó, BR – Cubo Espaço Multicultural
April 13th – São Paulo, BR – Fabrique Club