February 23, 2016 1:37 pm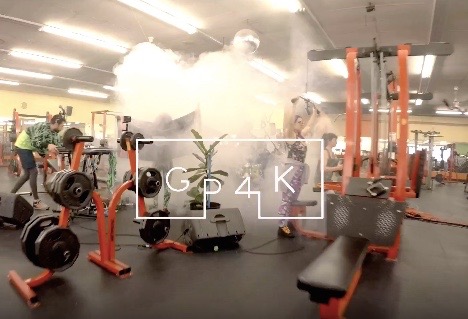 Prince Rama teamed up with Pitchfork & GoPro to create a wacky fitness video for their track "Bahia." View the it here via PitchforkTV.
"On January 27, 2016 Brooklyn based band Prince Rama performed the track "Bahia" from their upcoming album Xtreme Now at Otom Gym in Greenpoint, Brooklyn. Directed and edited by Jim Larson, the video showcases the band's energetic live show while contortionist Amazing Amy and a group of Xtreme health nuts get ripped. Using GoPros on zip lines, gimbals, mic mounts and chest mounts Larson's goal was to capture the performance from the perspective of someone getting in a good sweat while Prince Rama play live."
See the duo live next month! March 2nd – Kingston, NY – BSP Kingston March 4th – Brooklyn, NY – Baby's All Right March 5th – Washington, DC – Comet Ping Pong March 6th – Baltimore, MD – Metro Gallery March 9th Richmond, VA – Strange Matter March 10th – Durham, NC – The Pinhook March 11th – Savannah, GA – Savannah Stopover – Club One March 12th – Atlanta, GA – The Earl March 13th – New Orleans, LA – Siberia March 24th – Phoenix, AZ – Valley Bar March 25th – San Diego, CA – Soda Bar March 26th – Costa Mesa, CA – The Wayfarer March 29th – Los Angeles, CA – Resident March 30th – Oakland, CA – Starline Social Club April 1st – Portland, OR – Doug Fir Lounge April 2nd – Vancouver, BC – The Cobalt April 3rd – Seattle, WA – Barboza April 7th – Minneapolis, MN – 7th St. Entry April 8th – Chicago, IL – Schuba's April 9th – Indianapolis, IN – Tube Factory Artspace April 11th – Detroit, MI – Marble Bar April 12th – Toronto, ON – The Garrison April 13th – Montreal, QC – Casa Del Popolo April 14th – Allston, MA – Great Scott April 15th – Philadelphia, PA – Ortileb's Lounge