Carpark is heading to SXSW!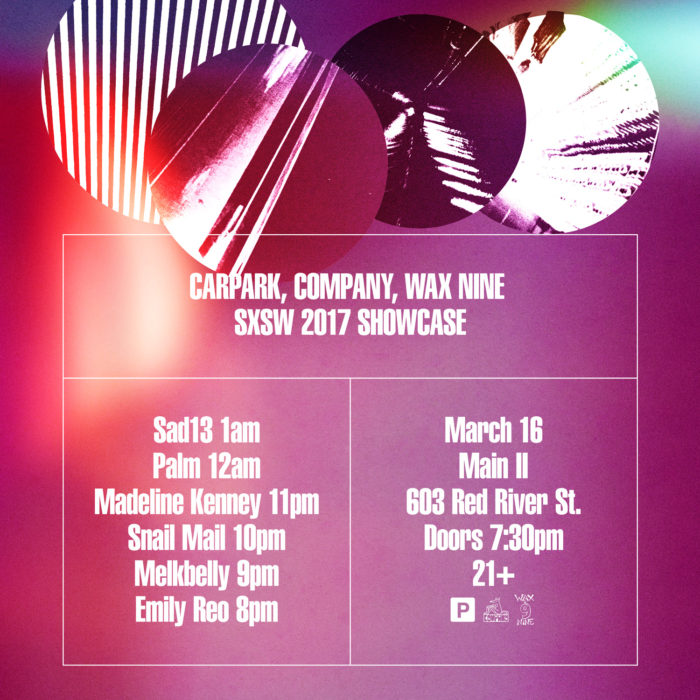 February 23, 2017 1:51 pm
We're extremely excited to announce that we'll be returning once again to SXSW on Thursday, March 16th at The Main II.  This year's showcase will be a collaboration with our two sister labels Company Records (headed by Toro Y Moi's Chaz Bundick) and Wax Nine (headed by Speedy Ortiz's Sadie Dupuis).  The following will be performing live music for those in attendance: Sad13, the solo pop project of Speedy Oritz's Sadie Dupuis. Palm; the angular experimental pop band from Philly; wistful dream pop from the bay area's Madeline Kenney; Brooklyn indie pop from Emily Reo; pulverizing thrashy guitars from Chicago's Melkbelly; and Baltimore lo-fi dream pop band, Snail Mail.  BYOE.
Thursday, March 16
Main II
603 Red River St
Austin, TX 78701
21+
Badges and wristbands welcome
Cover TBA
Doors: 7:30pm
8pm :: Emily Reo (Brooklyn, NY)
9pm :: Melkbelly (Chicago, IL)
10pm :: Snail Mail (Baltimore, MD)
11pm :: Madeline Kenney (Oakland, CA)
12am :: Palm (Philadelphia, PA)
1am :: Sad13 (Philadelphia, PA)
Facebook event
SXSW
Artist playlists: Spotify / Soundcloud
Recent Tweets
get your exclusive copy of 'Auckland, New Zealand, 2020' from @ZiaRecords 🌟 https://t.co/ykAaILDCAn
17 September, 9:26pm