Carpark Sweet Sixteen Update
April 20, 2015 5:41 pm
More Sweet Sixteen announcements! New to our shop is a bundle featuring Carpark-branded American Giant sweatpants and a special USB drive that contains every piece of music we've released from CRPK1/CAK01 to CAK99, plus all the CAKD digital releases in between. Available now here! The USB drives were designed by Chaz Bundick of Toro Y Moi and Les Sins. Images below.
The release date of our Sweet Sixteen Basketball Picture Disc 12″ has been pushed back to July 21st. In the mean time, listen to a song from the record: "Beyond the Arc" by Ear Pwr, which Consequence of Sound premiered today here. We've also put up more picture discs for sale in the shop. It's a steal at only $16!
Today is the last day of a Carpark label spotlight on iTunes.
A Carpark label sale on emusic is going on now!
If you're in New York City, stop by Other Music, which is currently hosting a sale on titles from the Carpark discography.
If you're in the U.S., head to your local indie record store at the end of April to see if they are carrying a free Carpark cassette: The Best Carpark Compilation In The World…Ever! You can find this compilation online, also for free, on Amazon. Eyeball the tracklist below:
Toro Y Moi; "Empty Nesters"
Speedy Ortiz; "Raising the Skate"
Cloud Nothings; "I'm Not Part of Me"
Dan Deacon; "The Crystal Cat"
Beach House; "Master OF None"
TEEN; "Tied Up Tied Down"
Memory Tapes; "Sheila"
Skylar Spence; "Fiona Coyne"
GRMLN; "Jaded"
Young Magic; "Sparkly"
Montag; "True Love"
Class Actress; "Weekend"
Dog Bite; "Forever, Until"
Chandos; "Cobra Points"
Greys; "Guy Picciotto"
Popstrangers; "Country Kills"
Casino Versus Japan; "Aquarium"
Marumari; "Baby M"
So Takahashi; "Pms 185c (M72, Y43)"
Adventure; "Feels Like Heaven"
Signer; "Building Memories Without You"
Greg Davis; "Curling Pond Woods"
EAR PWR; "Super Animal Bros. III"

Above: Men's American Giant sweatpants front with Carpark Sweet Sixteen logo mock-up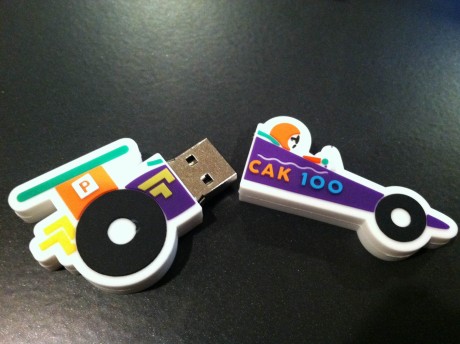 Above: CAK100 Carpark Records Racecar USB
Recent Tweets