Greys' "Outer Heaven" out today!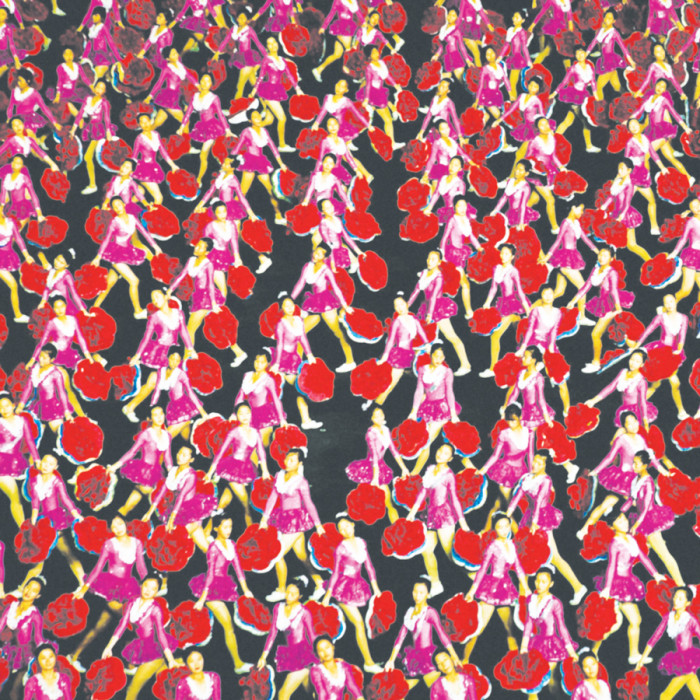 April 22, 2016 10:24 am
Outer Heaven is a massive leap forward for Toronto post-punks Greys. Delivering on the promises made on 2015's Repulsion EP, the band tempers their trademark onslaught of discordance with new textures and subtle dynamics, building a more spacious and melody-driven environment atop their noise rock foundation. They fearlessly explore every extreme, simultaneously delivering their most intense and accessible moments, often within the same song.
The record is officially out today! Pick up a copy on the Carpark shop, iTunes or in a record store near you. The album is also streaming via Spotify and Apple Music. Stop by select retail stores and receive a limited edition Greys postcard with the purchase of Outer Heaven, while supplies last.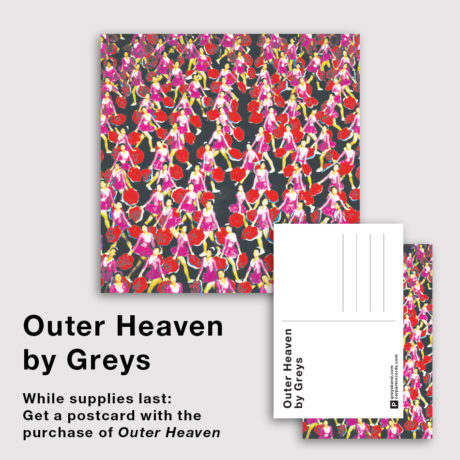 **Stores include: Criminal Records (Atlanta, GA); End of An Ear (Austin, TX); Waterloo (Austin, TX); Looney Tunes (Babylon, NY); The Sound Garden (Baltimore, NY); Amoeba (Berkeley, CA); Rasputin (Berkeley, CA); Landlocked (Bloomington, IN); Rough Trade (Brooklyn, NY); Pure Pop (Burlington, VT); Permanent Records (Chicago, IL); Reckless Records (Chicago, IL); Saki (Chicago, IL); Rhino (Claremont, CA); Music Saves (Cleveland, OH); Twist & Shout (Denver, CO); Wax Trax Records (Denver, CO); Lou's Records (Encinitas, CA); Cactus (Houston, TX); Indy CD & Vinyl (Indianapolis, IN); Luna (Indianapolis, IN); Fingerprints (Long Beach, CA); Amoeba (Los Angeles, CA); Mount Analog (Los Angeles, CA); Permanent Records (Los Angeles, CA); Electric Fetus (Minneapolis, MN); Grimey's (Nashville, TN); Other Music (New York, NY); Park Ave CD (Orlando, FL); Repo Records (Philadelphia, PA); Stinkweeds (Phoenix, AZ); Zia Records (Phoenix, AZ); Blue Moose (Portland, ME); Music Millenium (Portland, OR); Princeton Record Exchange (Princeton, NJ); School Kids (Raleigh, NC); Plan 9 (Richmond, VA); Amoeba (San Francisco, CA); Aquarius (San Francisco, CA); Silver Platters (Seattle, WA); Euclid (St. Louis, MO); Salzers (Ventura, CA); Crooked Beat (Washington, DC)
—-
"Outer Heaven's heightened ambitions are best measured in terms of density rather than sprawl: the most bracing songs here pack in more radiant guitar textures, a greater lyrical depth, and sharper hooks without sacrificing Greys' innate moshability and punk-schooled economy." — Pitchfork
Catch the band on tour:
April 22nd – Allston, MA – O'Brien's
April 23rd – Philadelphia, PA – First United Church
April 24th – Washington, DC – Comet Ping Pong
April 25th – Brooklyn, NY – Alphaville
April 26th – Cleveland, OH – Mahall's
April 27th – Detroit, MI – PJ's Lager House
April 28th – Kalamazoo, MI – Millhouse
April 29th – Chicago, IL – Mousetrap
May 13th – Toronto, ON – The Garrison
May 29th – Winnipeg, MB – Handsome Daughter
May 30th – Saskatoon, SK – Vangelis
May 31st – Edmonton, AB – The Buckingham
June 1st – Calgary, AB – Broken City
June 4th – Seattle, WA – Black Lodge
June 6th – Portland, OR – Valentine's
June 8th – San Francisco, CA – Hemlock Tavern
June 10th – Los Angeles, CA – La Cita
June 13th – Denver, CO – Hi-Dive
June 14th – Lawrence, KS – Jackpot
June 15th – Chicago, IL – Subterranean
Recent Tweets